Spreading Love & Joy through a simple act of Kindness!
With just Rs.500, you can gift love & happiness to a needy child through a set of new clothes, this joyous season!
Wearing decent clothing seem to be a distant dream for children living in extreme poverty, where even taking care of their day-to-day needs is a great challenge!
This festive season, we at SEESHA, remember the thousands of disadvantaged children, who cannot afford to wear a good decent set of clothing to keep themselves warm during this winter. This is why every year, we choose this season to share love, comfort and happiness through the gift of new clothes to 1 Lakh impoverished children.
Support us in gifting happiness to the underprivileged children, wrapped in new sets of Clothing!
Support the Cause
Know more..
Our Projects
SEESHA designs and implements projects relevant to the needs of people from all sections of the society, irrespective of caste, creed, colour, gender or religion. Each of the projects function in their own unique ways to propel the journey towards holistic development, fuelled by indicators such as using education, health, environment and livelihood.The projects are set both in community as well as institutionalised settings. Primarily, we work with children, youth, women, men, families, persons in need of physiological and psychological care, the differently-abled, senior citizens, and victims of natural disasters. Together, these individual projects are equipped with the power to transform entire communities.
Child & Youth Development
SEESHA nurtures young dreams and moulds children and youth into change-makers of their communities and the nation through a range of tailor-made development projects.
Women Empowerment
At SEESHA, we transform shy, uneducated women into empowered individuals through trainings and development programmes.
Service to the Elderly
SEESHA reaches out to the elderly who are abandoned and destitute in order to assure them a healthy and dignified retired life.
Differently-abled Care
With the vision of an inclusive society, SEESHA trains, counsels and motivates the differently-abled to lead independent and self-sufficient lives.
Health Outreach Projects
SEESHA health outreach projects aim to make quality healthcare affordable to the poor, even in the remotest of communities.
Disaster Relief & Rehabilitation
SEESHA's country-wide network of volunteers responds to the need for relief, providing basic provisions and financial assistance to those affected by natural disasters.
SEESHA Updates
---
"I was lonely but you visited me" - REACHING THE UNREACHED!
Raising resilient Communities for a better tomorrow…
Basking in the Outdoors... Because, everyone deserves to feel good!
Promoting team spirit among tribal youth
Reaching out to the Neglected
Rebuilding Homes, Restoring lives!
A Ray of Hope at times of disaster!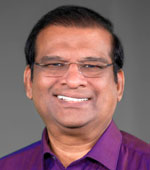 Dr. Paul Dhinakaran
Founder, SEESHA
A philanthropist and educationist, Dr. Paul Dhinakaran established SEESHA in 2003 as the manifestation of his vision in humanitarian service. His personal motto, "Let's give life" is also the tagline of SEESHA.
Testimonials
---
Volunteer

"I experienced the amazing consequence of turning my focus away from me to others, and it was indeed life changing!"
Beneficiary

"The courses offered free of cost by SEESHA have taken me a step closer to my dream as I have a means to earn and save money."
Donor

"Invest in such marginalised children and be blessed, just as I am!"
Quick Recovery through Quality Healthcare
Through research and innovations in the field of Science and Technology, SEESHA is able to ensure the quick recovery of patients coming to the SEESHA-Karunya Community Hospital.
Watch this video as a son shares the story of his mother's sickness and her recovery through the hospital.
Help us expand our services so that we can make quality healthcare services available and affordable to all.
Click to Contribute