SEESHA's Response for COVID - 19-2020

Even as the coronavirus outbreak is accelerating and the world is battling the COVID-19 pandemic, India is currently battling its worst health crisis with dozens of new infected cases getting reported every day. COVID-19 is a respiratory disease with early symptoms being dry cough, fever, body pain and breathing difficulty.Even during this pandemic, as fear is seeping through the cities and states of India because of coronavirus, we at SEESHA have been tirelessly working towards breaking the chain of spread of coronavirus.
Highlighted below are some of the ways through which SEESHA has been responding to support the frontline healthcare workers, the needy people and general public, during these troubled times.
Screening tests&24X7 Emergency care at SEESHA Karunya Community Hospital, Karunya Nagar.
In an effort to complement the government's initiatives to contain the outbreak, our specialists at SEESHA Karunya Community Hospital are educating the public on the modes of spread of coronavirus and through the screening and emergency facility at SEESHA Karunya Community Hospital, our medical team have been performing early diagnosis and offering emergency care. We are monitoring this situation 24X7 by keeping our emergency care, pharmacy and diagnostics open with doctors, nurses and other paramedics. Through the emergencyscreening center at the SEESHA Karunya Community Hospital, Karunya Nagar more than 500 cases were screened with thermal sensors and the doctors have referred 3 cases to Coimbatore GH.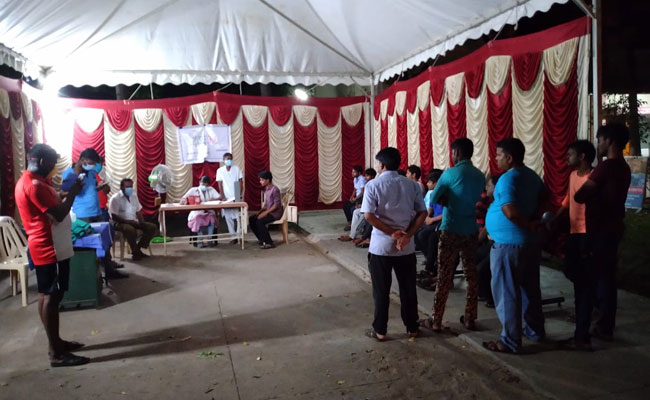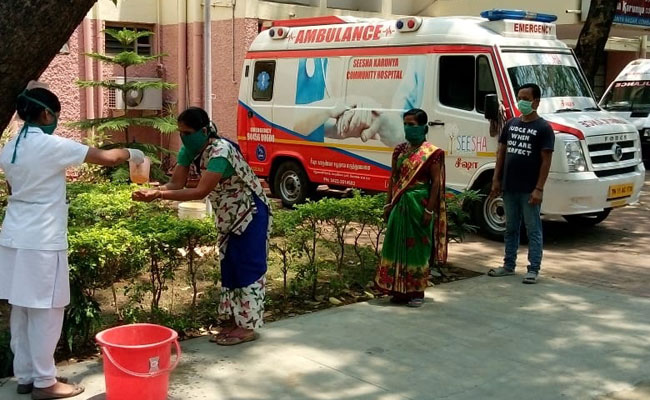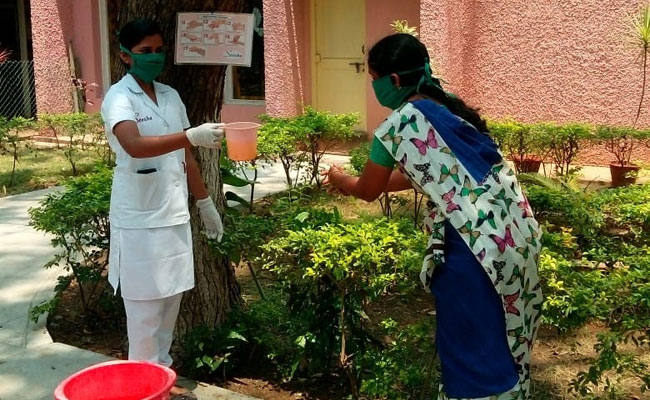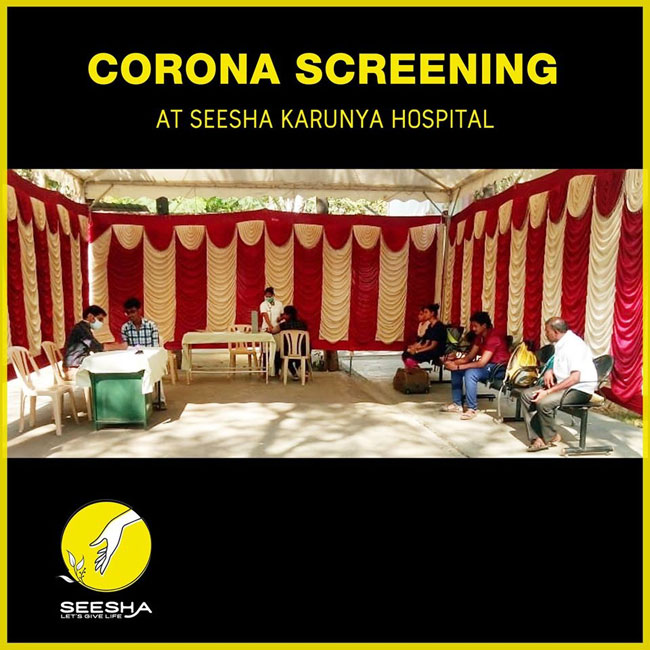 Awareness programs& Disinfection drives in Target communities:
We are also building awareness about this disease among the rural population and teaching them to detect early symptoms and practice proper sanitizing habits.This effort began in Vanagaram, Chennai with the help of the local administration and was carried forward to rural & tribal areas around Siruvani hills of Coimbatore where access to primary healthcare services is limited.
To improve the sanitation and keep infections at bay in these vulnerable locations, SEESHA volunteers and healthcare workers are continually involved in disinfectants spraying operations. During the first phase of disinfecting the vulnerable areas to control disease vectors and prevent infections, Karunya Deemed University along with SEESHA staff, were involved in disinfectants spraying drive in Mathuvarayapuram panchayat for 3 days covering all the areas. This was greatly appreciated by the panchayat officials.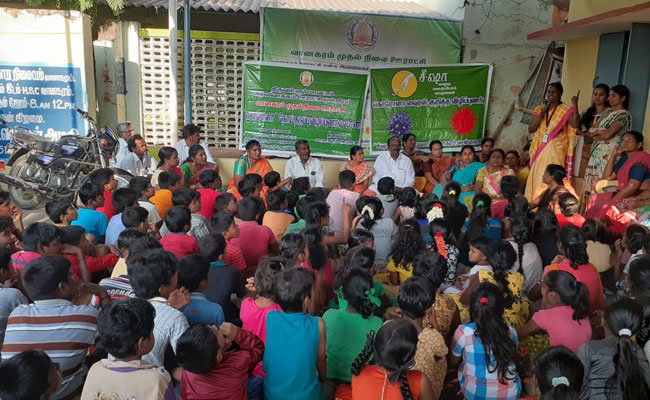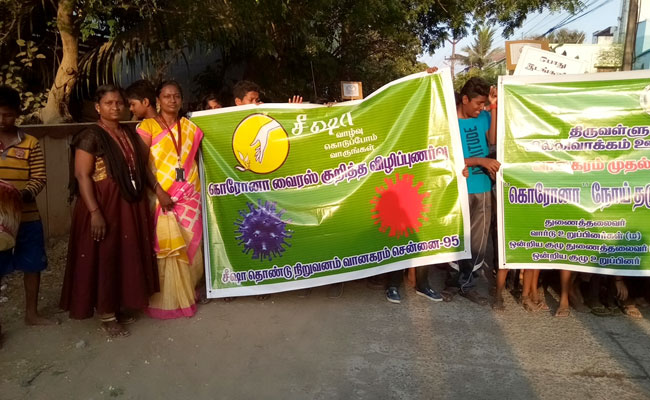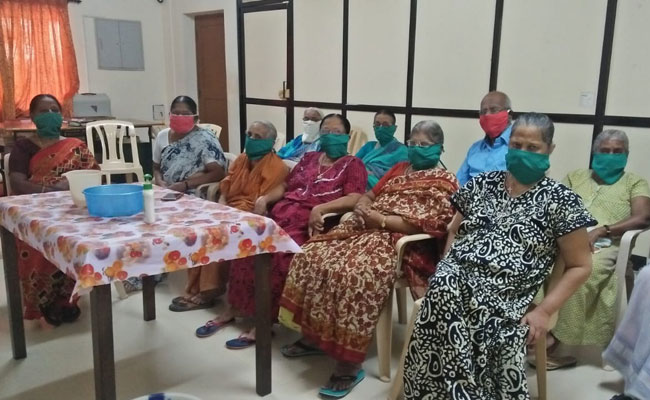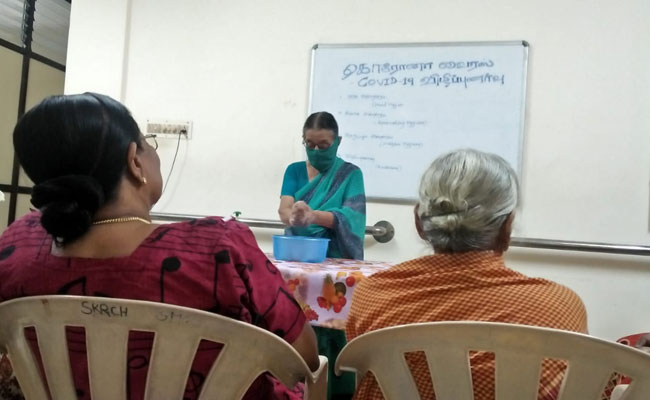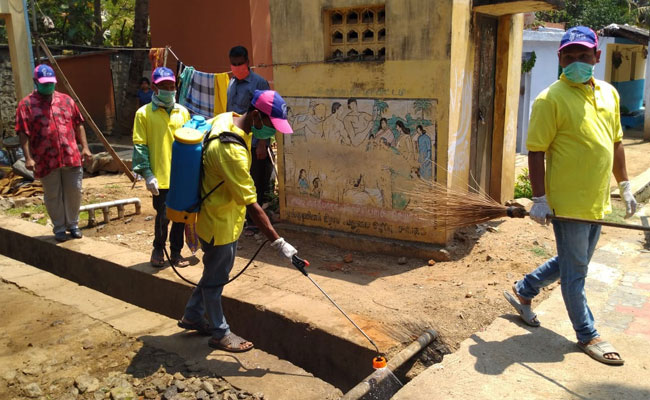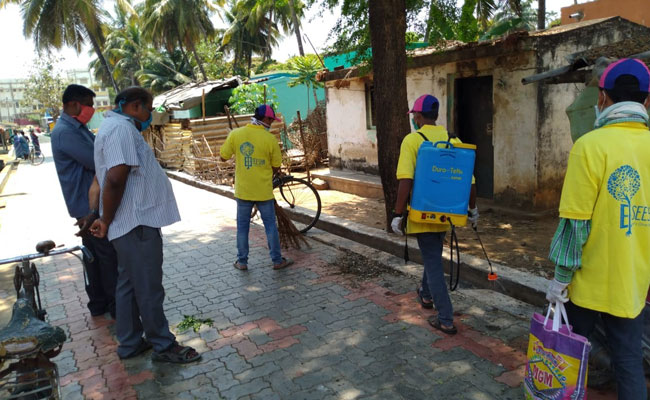 Easing access to health and sanitationkits:
There has been an escalating need across the country to equip the medical facilities with personal health &sanitary products, during this outbreak. With the hand sanitizers becoming the critical need of the hour for our protection against the COVID-19 and due to their surging demand, Karunya Deemed University has prepared 400 litres of hand sanitizers (in the first phase) through its chemists and doctors according to WHO standards.
Furthermore, the elders at SEESHA Old Age Care Home and SEESHA's women's group, are stitching masks for the community, understanding the concerns of the community volunteers, doctors and paramedics with regard to the demand of masks in the market and their rising prices. Stepping in with help, SEESHA has taken the responsibility of buying raw materials for the masks, and also has given incentives to compensate for their hard work.
Around 150 litres of these hand sanitizers and hand-made masks were handed over by Dr. Samuel Thomas – COO of SEESHA, to the District Collector of Coimbatore and Corporation sanitary officials, in the first phase. These products would be used by the sanitary workers of Coimbatore district to stay safe during this outbreak.
SEESHA team has distributed more than 2000 masks thus far, to healthcare and sanitary workers, policemen and general public. Health and sanitation kits were also distributed to over 100 families in the tribal villages near Sadivayal.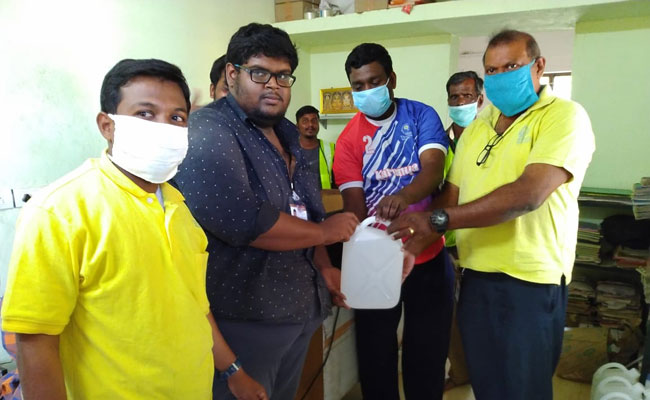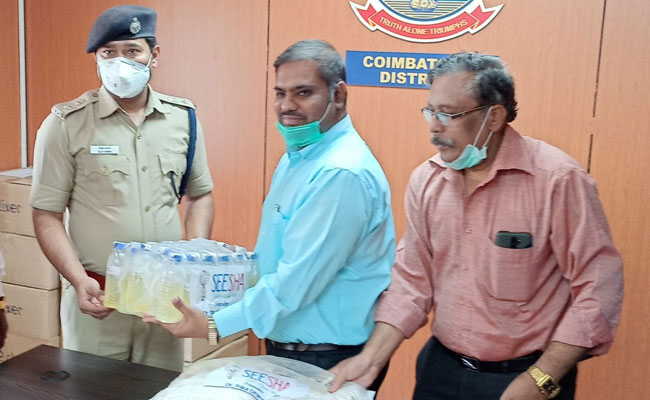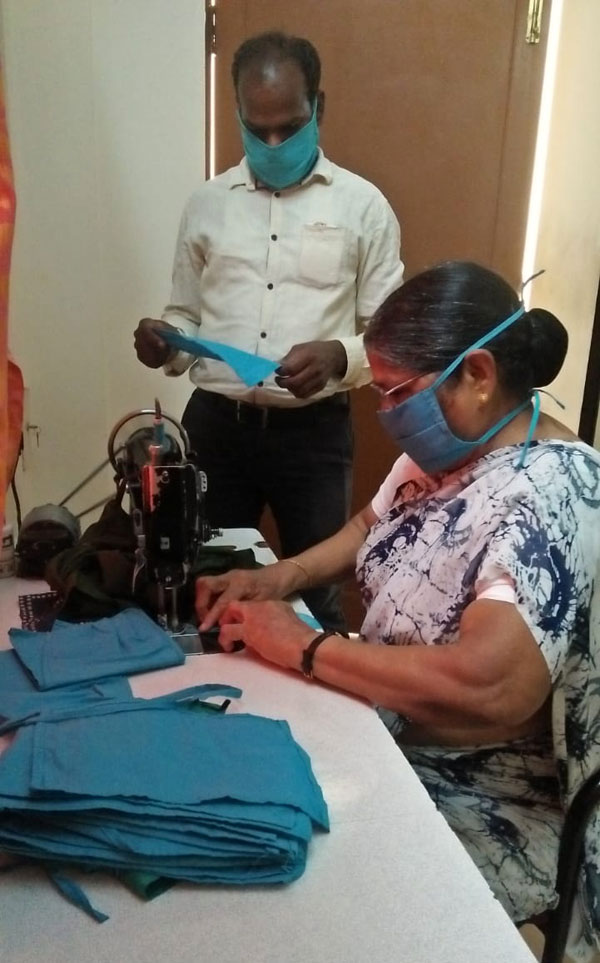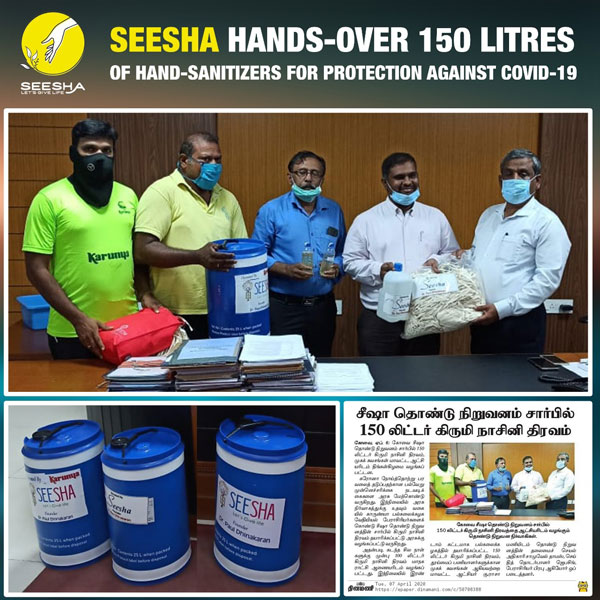 Food aid programs for the poor/transgenders
As the initial 21-day lockdown has been implemented across India to restrict the spread of COVID-19, marginalized sections of the society like daily wage laborers, the homeless poor, low-income groups and the transgenders who depend on daily wages for their sustenance, are the worst-affected going without food for days, with the skyrocketing food prices. To ease the suffering of such marginalized groups, SEESHA has been providing groceries and other supplies as immediate food aid. 35 poor transgenders and 120 HIV-affected were helped with dry rations for a month through SEESHA during this crisis hour in the first phase.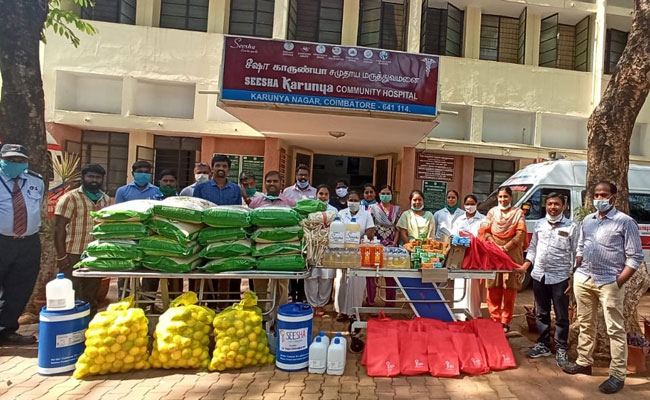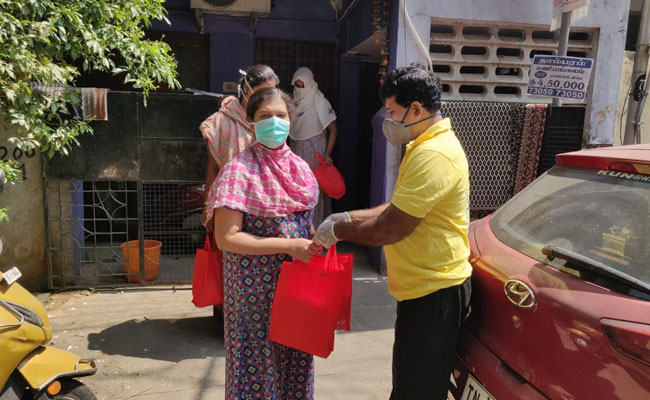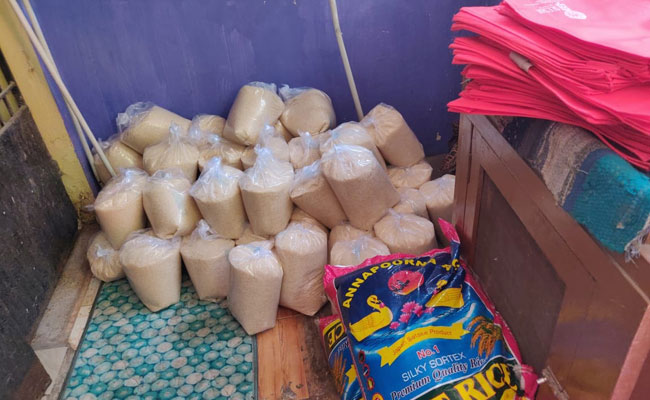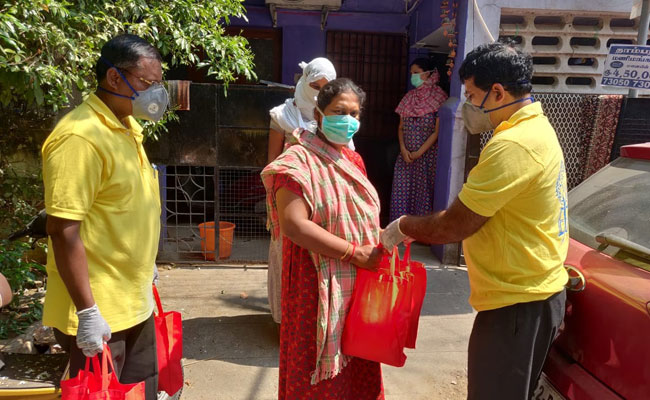 Improving accessibility to emergency healthcare facilities
As the COVID-19 pandemic is spreading aggressively and has reached the stage of community transmission, the need for more screening and emergency care facilities has risen drastically.Unfortunately, many of the underprivileged families residing in the remote regions of Ooty, Mettupalayam and other regions from Nilgiris& Coimbatore districts do not have access to essential health services and necessary diagnostic facilities. To overcome this disadvantage and ease the access to emergency health care and treatment for these marginalized communities, SEESHA's Founder Dr. Paul Dhinakaran benevolently offered the Karunya campus at Periyanaickenpalayam for the Government of Tamil Nadu to convert it into a temporary hospital to treat COVID-19 patients. Through this treatment facility in their vicinity, the coronavirus affected and suspected patients from Ooty, Mettupalayam, Periyanaickenpalayam and other nearby areas would be greatly benefitted.
In this regard, Dr. Samuel Thomas – COO of SEESHA, handed-over the letter of correspondence from our Respected Founder to the Coimbatore District Collector Mr.Rajamani IAS.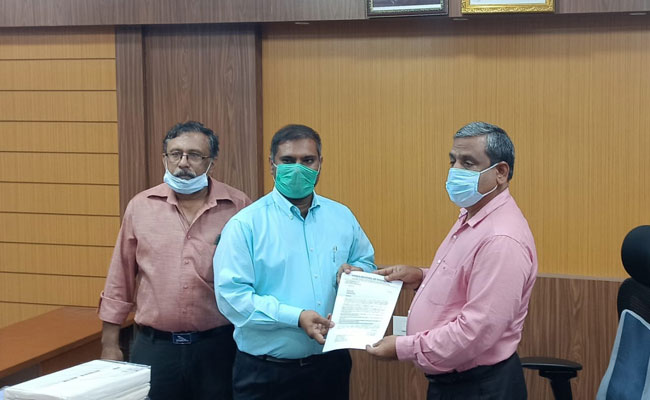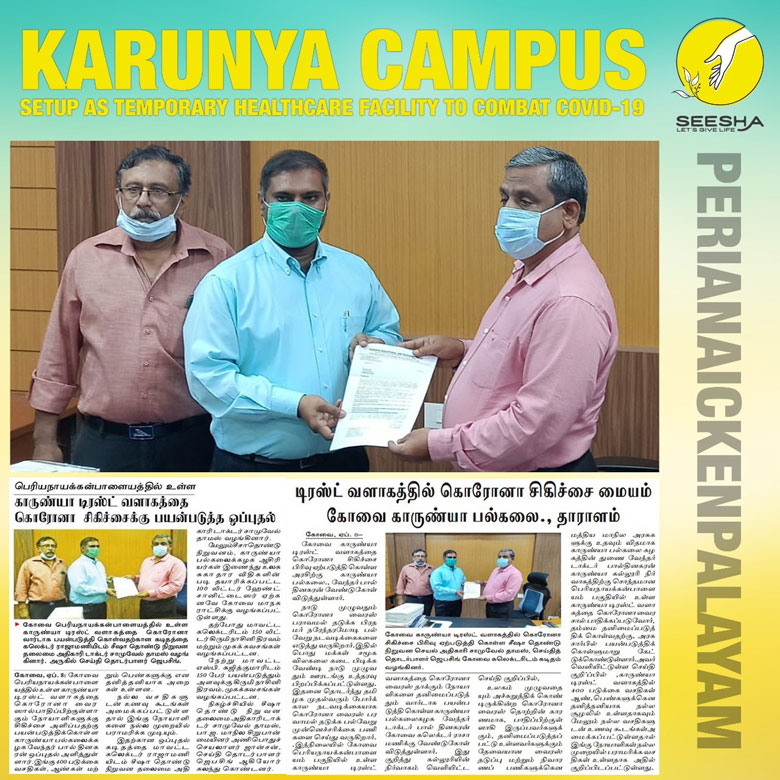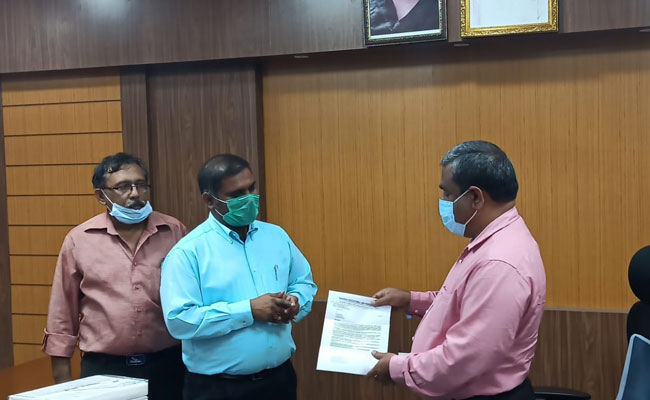 Thank you all for your invaluable support towards our emergency response efforts, during this coronavirus outbreak. As we continue to reach out to the marginalized sections and assist the healthcare workers & General public, your small contribution can help us serve them better.
We need your support in providing material for these masks, compensating our healthcare specialists and volunteers, for distributing health & sanitary kits and dry rations to the needy, and for preparing & spraying disinfectants in specific areas. We are constantly updating our findings and sharing them with the community. There is so much more to do to break the chain of transmission of coronavirus. Please help us serve those in need and provide for those who are most vulnerable and fearful.
How You can Help :
You can support SEESHA's emergency response against the COVID-19 pandemic, through the following ways:
Sponsor health & sanitation kit for a family - Rs.1000/-
Sponsor dry ration supplies for 1 family for a month - Rs.1500/-
Creating health awareness for the general public in 1 village panchayat- Rs.10,000/-
Sponsor the distribution of safety masks to 1000 people - Rs.15,000/-
Sponsor spraying disinfectants for a village - Rs.20,000/-
To set up special ICU for treating infected people - Rs.2,00,000/-
SEESHA's support for the daily wage earners in Ranchi:
The lives & livelihoods of daily/low wage earners such as the street vendors, petty shop owners, cobblers and maid servants, especially those living in marginalized areas, have been severely impacted by the COVID-19 pandemic and the extended curfew. With their meagre savings depleted long back, they depend on the rations distributed by PDS and charity groups. SEESHA staff distributed a month's supply of dry rations to 495 families, living at Kanta Toli, Khorha Toli, Hinoo, Lah Kothi, Bahu Bazar, Kathar Toli and Rugri garha areas of Ranchi.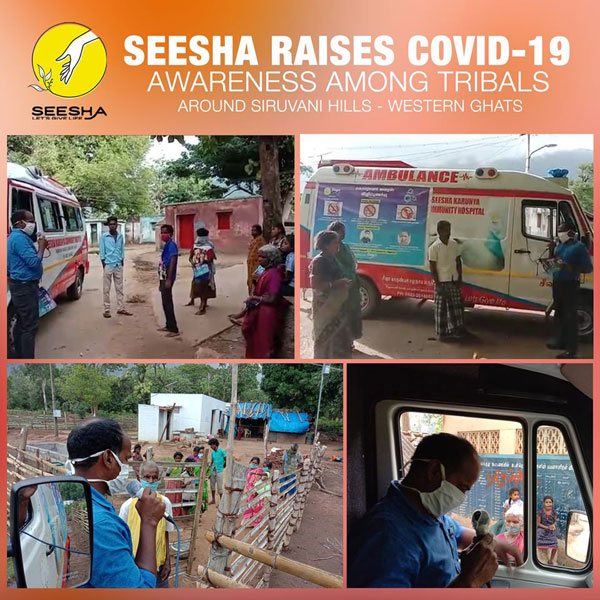 Awareness campaigns at 16 tribal villages around Siruvani Hills – Western ghats:
As the no. of COVID-19 cases keep rapidly escalating each day, the neglected tribal communities are at high risk of contracting the coronavirus infection, due to the lack of awareness, inadequate access to healthcare & hygiene products and possibility of community transmission.
SEESHA Team conducted awareness campaigns at 16 tribal villages around Siruvani Hills – Western ghats, namely - Porathy, Sarkar Porathy, Vellapathi, Pottapathi, Chadivayalpathi, Seengapathi, Kalkothi Pathy, Sadivayal, Sappanimadai, Nallurpathy, Karunya Nagar, Mundanthurai, Iruttupallam, Semmedu, Perumalkovilpathi and Pachinampathi, to sensitize the highly vulnerable tribal communities about the symptoms of COVID-19 disease, the need for maintaining personal hygiene and social distancing. Approximately, 4000 tribal families were sensitized during the campaigns. Over 250 families were provided calcium tablets. Our team also distributed 1000 handbills on the do's and don'ts for coronavirus prevention.
Lending a Helping Hand to Women - Auto Drivers:
The prolonged lockdown at several containment zones has brought the lives of many women drivers and their families to a standstill. Most of these women are the sole breadwinners for their families, and are left without any income to take care of their family's essential needs.
In an effort to reach out to these women in distress, SEESHA Team distributed dry ration grocery kits, with each kit comprising - 10 kgs of rice, 1 kg dhal, 1 kg wheat flour, 1 litre cooking oil and other dry rations, to women auto driver families in Chennai.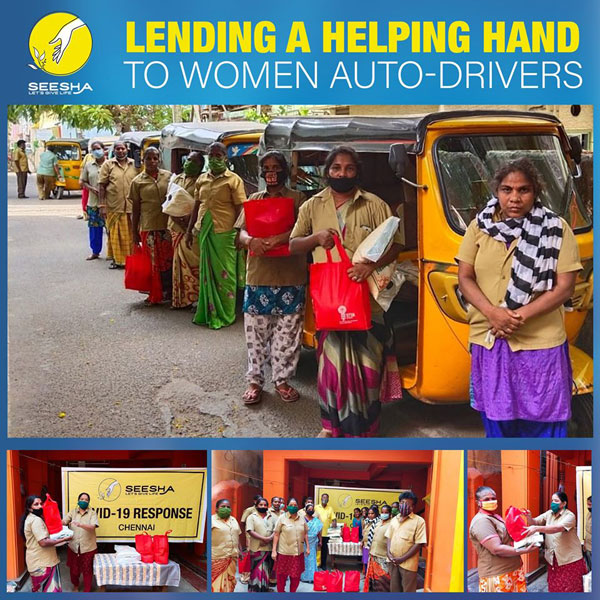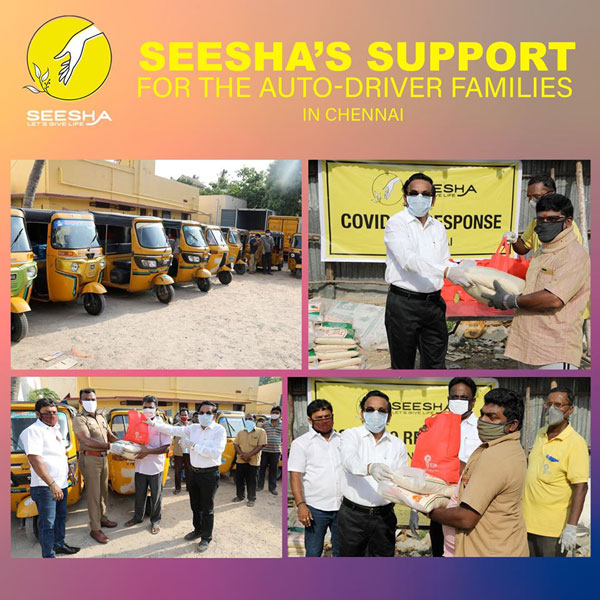 SEESHA's support for the Auto Driver Families:
With the lockdown restrictions still in place at containment zones across the country, the daily wagers like auto and taxi drivers are badly hit and many of their families are struggling for their daily essential needs.
In order to support the cause of these suffering daily wage workers, SEESHA Team distributed dry ration grocery kits, with each kit comprising - 10 kgs of rice, 1 kg dhal, 1 kg wheat flour, 1 litre cooking oil and other dry rations, to 75 auto driver & daily wage worker families at various places in Chennai.
Health and Sanitation Kits to Urban Poor in Bengaluru:
Most of the households in urban slums are living under overcrowded, unhygienic and pathetic living conditions which are breeding grounds for disease spreading vectors and infectious diseases such as the COVID-19 pandemic. Maintaining adequate public sanitation and proper personal hygiene are luxuries among these slum dwellers, who struggle even for their daily essentials during these challenging times.
To improve the practice of proper hand washing and help the vulnerable community fight against the infectious disease, SEESHA in association with its CSR funding partner – DXC Technology, distributed health and sanitation kits to 100 families living at DJ Halli slum-Bengaluru. The community members expressed their gratitude & appreciation to SEESHA and DXC Technology for their continuous support throughout the lockdown period.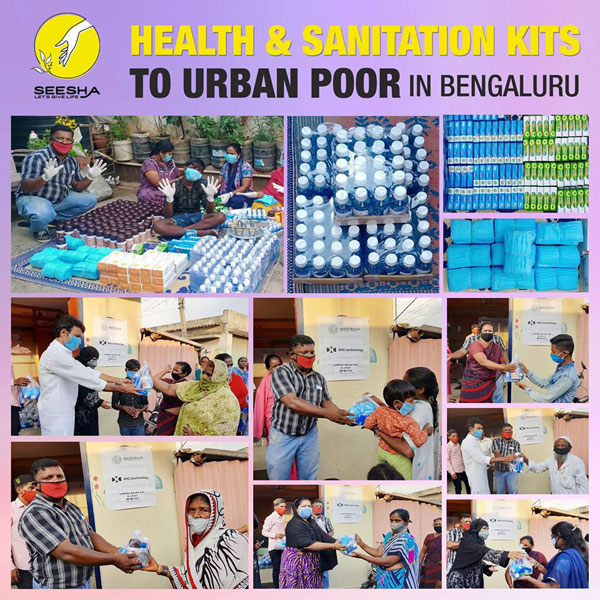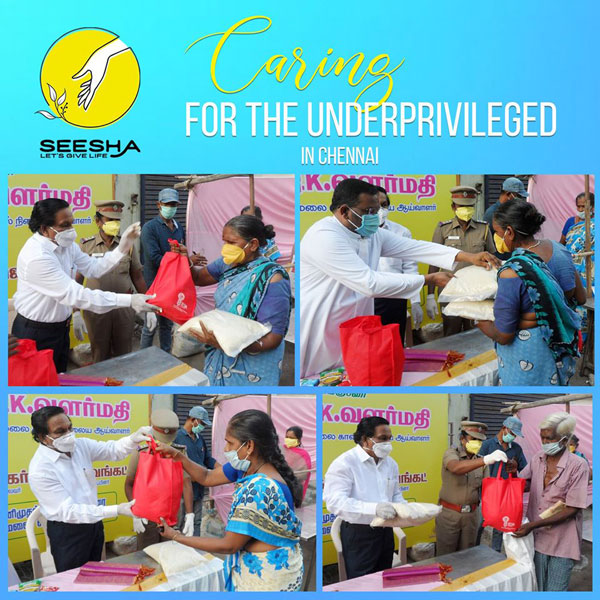 Caring for the underprivileged in Chennai:
As the entire Nation is slowly limping towards normalcy in the aftermath of the COVID-19 pandemic lockdown, it is beyond doubt that it would take many months to restore the livelihoods of the daily wagers and the underprivileged people, who lost their jobs due to the extended lockdown. With no source of income and living in poverty, many are struggling to make ends meet during these uncertain times.
In continuance of our relief efforts to serve the most underprivileged during crisis situations, SEESHA Team distributed one month supply of dry rations to 125 underprivileged families residing at Alandur, Chennai, to help them pass through this difficult lockdown season. Mr. Easwaradhas, Trustee – SEESHA and Ms. K. Valarmathi, Inspector of Police - St.Thomas Mount, presided over the event during which more than 1,250 kgs of rice, 125 kgs of Dhal, 125 kgs of wheat flour and other essential dry rations were distributed among the needy families.
SEESHA hands over 600 safety masks to Govt. hospital & Corporation in Arakkonam:
The shortage of personal protection including safety masks amidst the healthcare workers and other first responders on the front line of battle against the COVID-19 pandemic is a dire crisis, endangering the very people who are working to save others.
In order to meet the growing demand of the safety masks, SEESHA Team handed over 300 masks to Dr. Nivedha - Corona Disease Prevention Officer, in charge of the coronavirus isolation ward at Arakkonam government hospital, for the medical team to stay safe. Our Team also presented 300 face masks to the corporation sanitary officers at Arakkonam Corporation for the personal protection of the officials during this pandemic outbreak. SEESHA's concern for the well-being of the healthcare workers and at-risk groups was greatly appreciated by the beneficiaries in Arakkonam.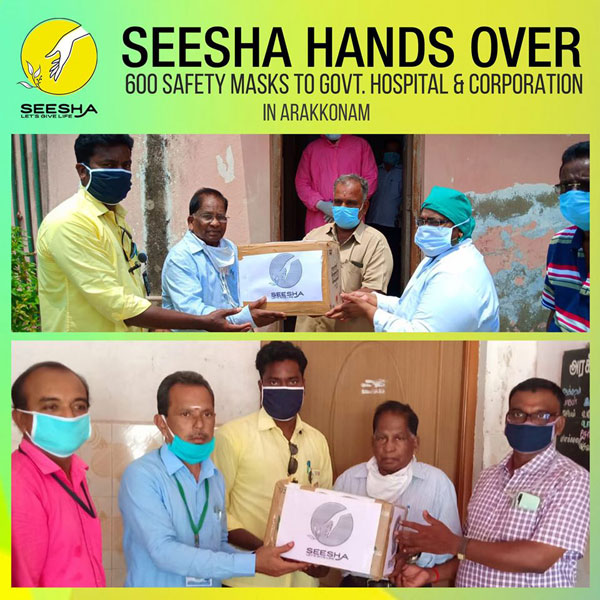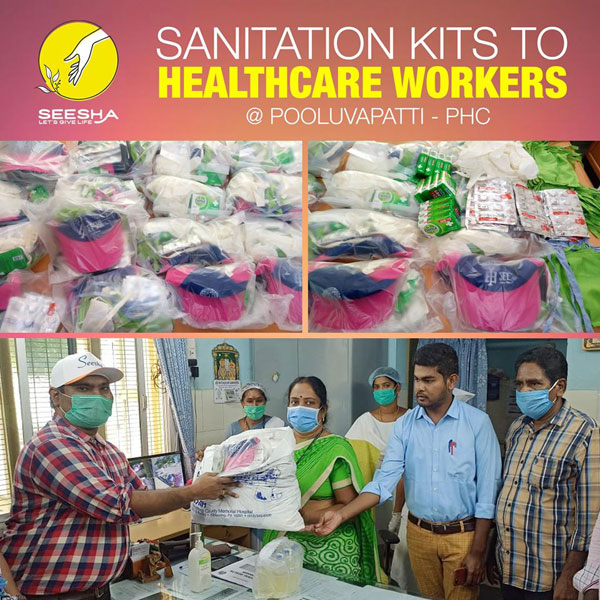 Sanitation kits to Healthcare workers at Pooluvapatti - PHC:
With India becoming the 10th biggest hotspot of the coronavirus disease in the world, the risk of contracting the coronavirus has increased exponentially among the medical & healthcare workers, who are toiling hard on the frontline of the COVID-19 outbreak response. During this crisis, usage of Personal Protective Equipment (PPE) and practising proper hand hygiene are pivotal in reducing the risk of contracting the infection and transmitting to others.
To ensure the safety of healthcare workers and their loved ones during this pandemic, SEESHA Team distributed health and sanitation kits to the healthcare workers in Pooluvapatti – Primary Healthcare Centre, Coimbatore district. The kits were gratefully received by Dr. Kanaharani Block Medical Officer in the presence of Mr. Selvaraj Health Inspector and other doctors & staff.
Serving the Poor & Needy in Tirunelveli:
For millions of underprivileged people residing in urban slums, rural and tribal areas across India, hunger is the biggest challenge thrown up by the lockdown imposed to combat the COVID-19 crisis. Although the government has announced relief packages to support the needy, the full benefits have not yet reached the targeted beneficiaries especially the rural poor.
Supplementing the government's efforts in supporting the needy through food assistance, SEESHA Team distributed 1-month supply of dry rations to underprivileged families in Tirunelveli, to help them deal with the hardships caused by the lockdown.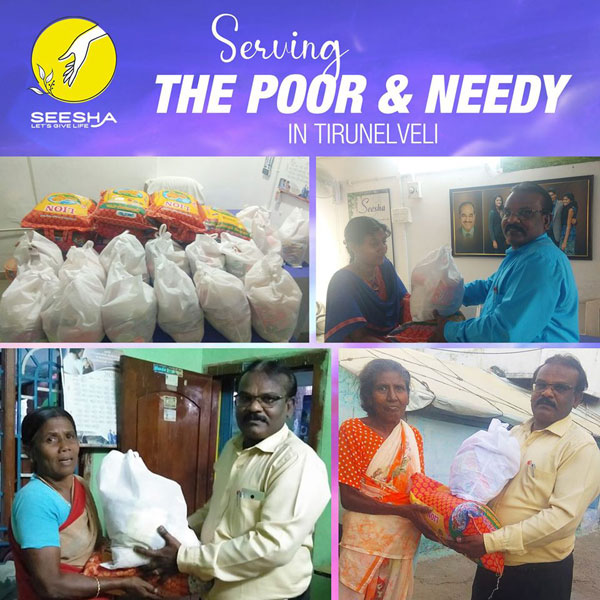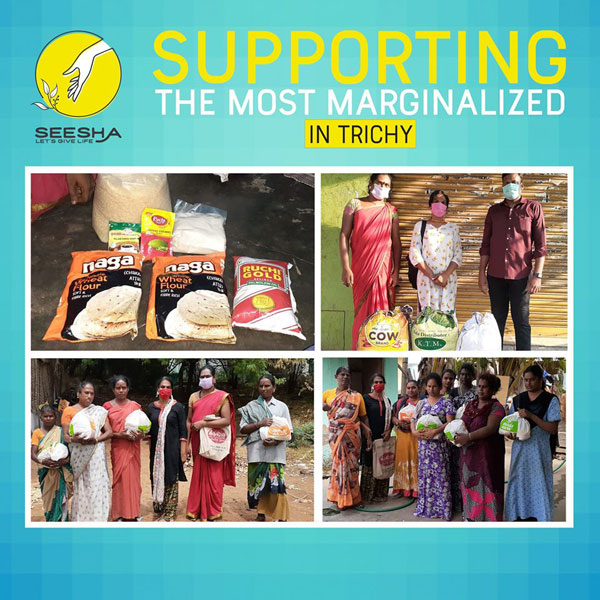 Supporting the most marginalized in Trichy:
The nationwide lockdown, in the wake of the coronavirus outbreak, has left several transgender persons struggling to make ends meet. A majority of this marginalized community are facing immense hardship with the dwindling food supplies and lack of access to healthcare, as they were left with no source of income ever since the lockdown came into effect on March 25.
In continuance of our efforts to serve the most marginalized sections in our society and to meet their essential needs during these challenging times, SEESHA volunteers distributed dry rations for 1 month to transgenders residing near Ariyamangalam – Trichy, on May 02, 2020. Each dry ration grocery kit comprises rice, atta, sugar, cooking oil and other cooking essentials.
SEESHA lends helping hand to Migrant Workers at Karunya Nagar:
Over this past month of nationwide lockdown, we've seen the suffering of the millions of internal migrant workers, left stranded far away from home, with no jobs or money. With the transport links across the States shut down, many of them tried to walk the hundreds of kilometres back to their homes. As immediate relief, many State governments and NGOs are reaching out to the migrant population with food and temporary shelters.
To address the plight of the migrant workers stranded around Karunya Nagar, SEESHA Team distributed dry rations to several vulnerable migrant workers yesterday, at SEESHA Karunya Community Hospital - Coimbatore.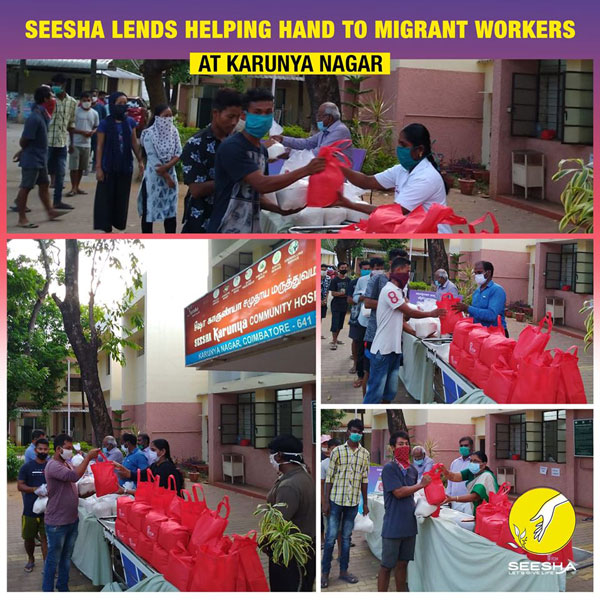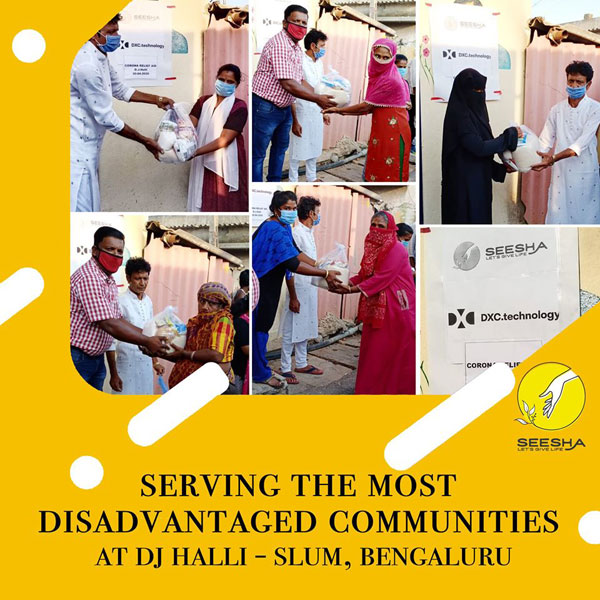 Serving the most disadvantaged communities at DJ Halli Slum, Bengaluru:
Most of the urban slums in India are characterized by acute poverty, overcrowding, pathetic living conditions and inadequate access to safe water. During this coronavirus crisis and the resulting lockdown, many of the families living in these slums are unable to stockpile food or basic necessities, leaving them vulnerable to hunger, malnutrition & infection.
It is the vision of SEESHA's Respected Founder Dr. Paul Dhinakaran to serve the neglected and care for the most underprivileged. In an effort of transforming this vision into reality, SEESHA in association with its CSR funding partner – DXC Technology, has identified the most underprivileged slum community living under pathetic conditions in DJ Halli-Bengaluru for its Family-Focused Community Development.
To ensure that the essential needs of this community are met during the lockdown period, SEESHA distributed dry rations to 100 underprivileged families in the DJ Halli Slum - Bengaluru this week. Each dry ration kit includes rice, atta, dal, oil, sugar, salt and other cooking essentials.
SEESHA's support for the most neglected &suffering:
The coronavirus pandemic and the resulting lockdown has led to unprecedented uncertainty & restrictions for millions of people, especially for those who are bedridden and sick. The social distancing and isolation also impact the family caregivers who are unable to get any outside support during this lockdown period.
As part of SEESHA Rehabilitation Centre's Community-Based Rehabilitation (CBR) program, we've been offering home-based care for stroke victims & other bedridden patients and psychosocial support for their family caregivers, through our periodic community field visits. As per the guidance of our Founder Dr. Paul Dhinakaran to cater to the essential needs of these most neglected patients and their caregivers, our SEESHA rehabilitation team, handed over 1-month supply of dry rations to these families during their regular home visits.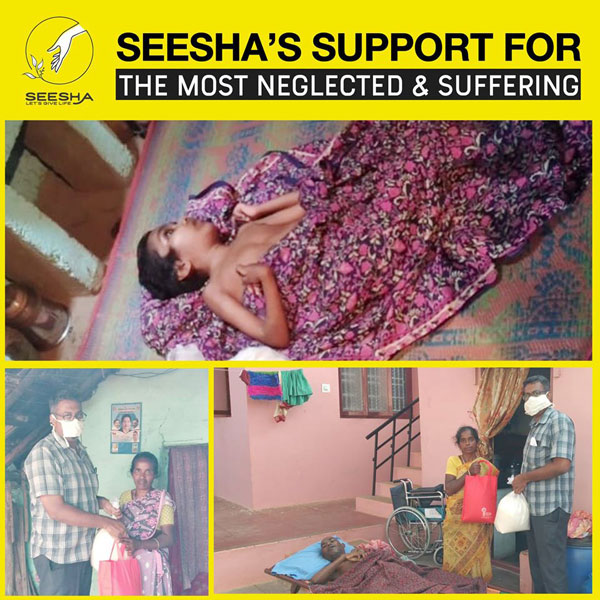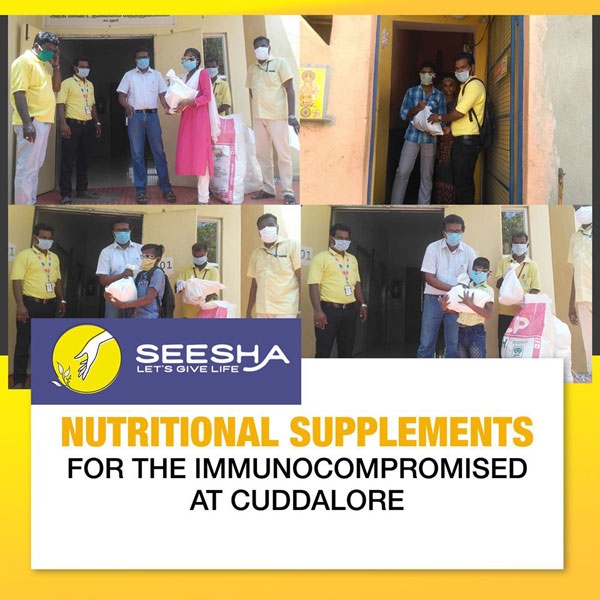 Nutritional Supplements for the immunocompromised at Cuddalore:
People living with HIV have a compromised immune system which makes them more susceptible to new viral infections and the related complications. As the coronavirus spreads rapidly across the world, the HIV patients should take additional precautionary measures and continue to maintain a healthy lifestyle to prevent the viral infection.
Understanding the special needs of the children living with HIV, our Founder Dr.Paul Dhinakaran moved with deep concern for their well-being, guided the SEESHA team to support these children with nutritional supplements. In order to boost their immune response during this coronavirus outbreak, SEESHA distributed nutritional supplements to 120-children living with HIV in Cuddalore district, in the presence of Dr. Devanand MD, Senior Medical Officer of ART centre, Govt. Hospital – Cuddalore, and ART Counsellor.
Caring for the migrant & Sanitation workers at Keelkattalai, Chennai:
The extended lockdown implemented due to the coronavirus pandemic, has affected millions of underprivileged in our Nation, leaving many hungry and suddenly jobless. Most of them have no savings and need the money they earn each day or each week to feed themselves & their families.
Moved with compassion on seeing the suffering of the daily wage labourers who are left stranded around their workplaces, SEESHA team distributed dry rations to over 150 migrant & sanitation workers at Keelkattalai, Chennai.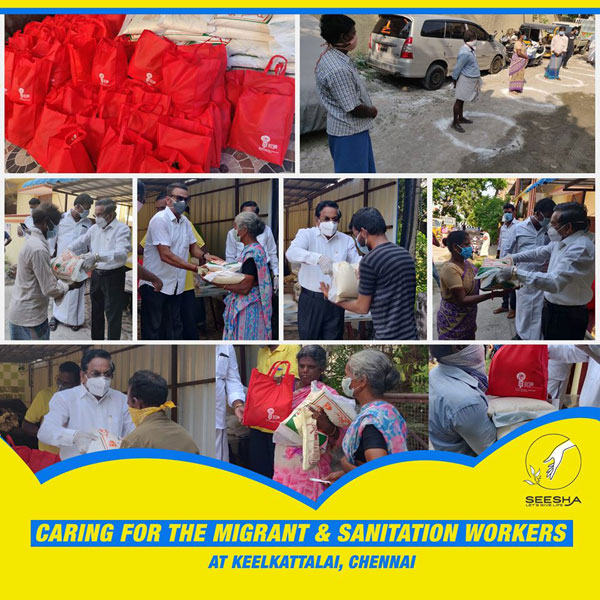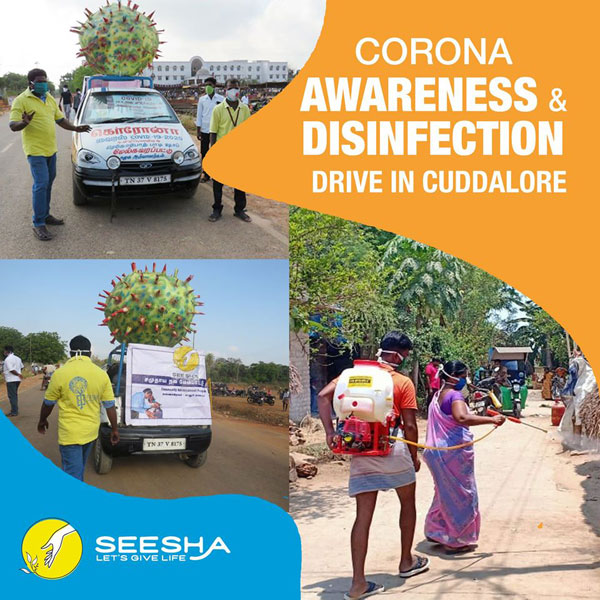 SEESHA's awareness & disinfection drive in Cuddalore:
As health, livelihood and economy are disrupted across India due to the COVID-19 pandemic & the resulting lockdown, it's becoming increasingly important to sensitize our rural communities and make them aware of the precautionary measures to be taken to stall the disease spread.
In order to spread awareness about the coronavirus disease, hand hygiene and social distancing, a mobile awareness campaign was conducted by SEESHA with the approval of local administration, at the prime market location in Panruti Taluk of Cuddalore district, last week. In addition, SEESHA volunteers were involved in spraying disinfectants in all common areas across Keelkavarapattu village - Cuddalore district, to decontaminate public places and inactivate the virus on external surfaces.
SEESHA distributes dry rations to the needy at Mahim, Mumbai:
As Maharashtra gets severely battered by the coronavirus pandemic, the untold woes due to the lockdown also adds to the misery of the poor living in Mumbai, which has become India's COVID-19 hotspot. 'Working from Home' is not an option for the thousands of daily wage earners and laborers living here in tightly packed shanties, under poor sanitation and food shortage. SEESHA Team along with the volunteers distributed dry rations consisting of Rice, Dhal, Oil, etc. to the underprivileged families in Mahim region, Mumbai yesterday. The community members expressed their heartfelt gratitude to SEESHA, for lending a helping hand during this hour of crisis.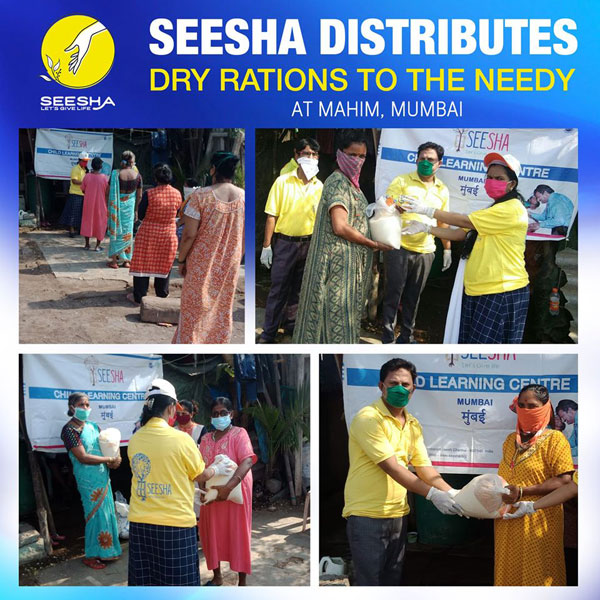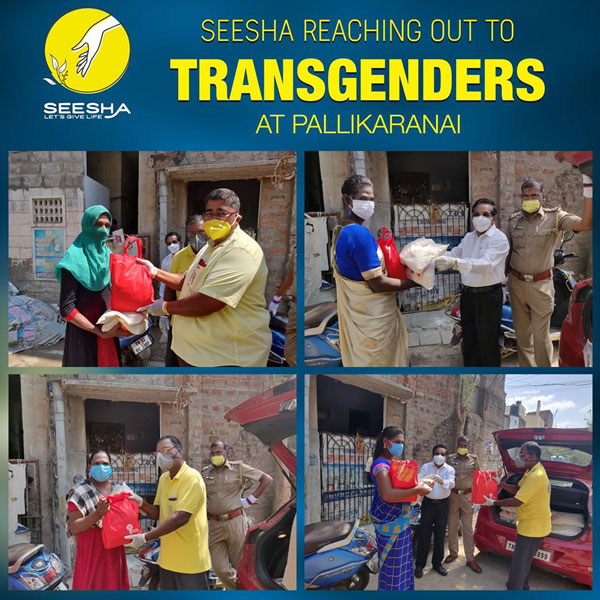 Supporting the most neglected during these stressful times...
The coronavirus health emergency has left millions jobless and without money as a result of shutdown. Out of them, several thousands of trans-people across India are the worst-affected as their livelihoods are dependent on unsteady income mostly coming in as infrequent daily wages or through their performances in functions. Lack of proper housing & access to healthcare, has also increased their risk of contracting the virus easily.
In continuance of our efforts to reach out to the most marginalized sections in our society, SEESHA Trustee Adv. Easwaradhas along with SEESHA staff and volunteers distributed dry rations for 1 month and sanitation kits to transgenders residing at Pallikaranai, Chennai on April 16, 2020. Each dry ration grocery kit comprises 10 kgs of Rice, 1 kg Toor Dhal, 1 Kg Sugar, 1 kg salt, 1 ltr of cooking oil and other cooking essentials.
SEESHA helps 310+ families with dry rations and vegetables at Ranchi.
Though the coronavirus lockdown in India has been effective in curbing the spread of the COVID-19 disease, it has adversely affected the livelihoods of daily wage earners, the poor and the elderly who depend on daily wages for their everyday needs.
To support the underprivileged families during this lockdown, SEESHA staff, volunteers and local community leaders distributed over 1550 kgs of rice and vegetables among the entire 310+ families residing in the Rugrigarha community – Ranchi, yesterday. The rations were distributed door-to-door, to ensure social distancing and avoid crowding. The community members expressed their gratitude to SEESHA for the timely assistance.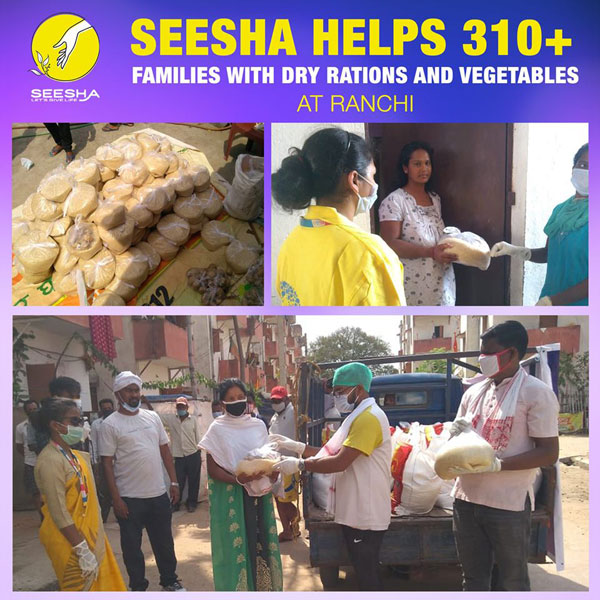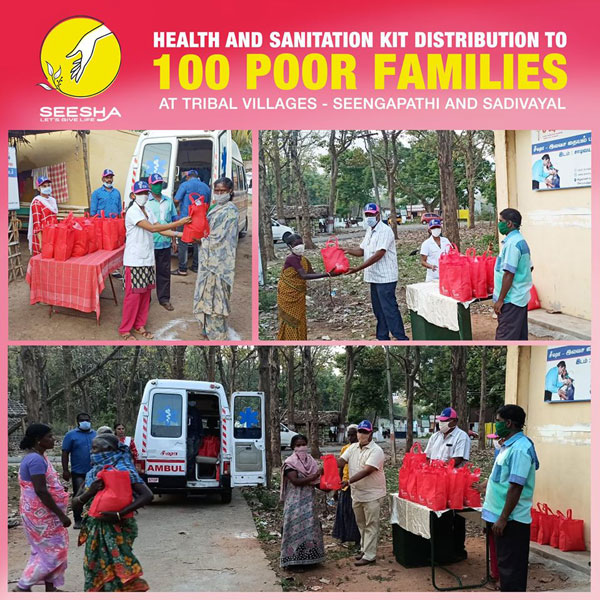 SEESHA's dry rations & Sanitation kits to tribal families at Seengapathi and Sadivayal
Due to lack of access to emergency healthcare facilities in their vicinity, Tribals are highly vulnerable to epidemic infections. Their lack of awareness about the COVID-19 outbreak and inadequate hygiene practices could also lead to disaster during this hour of crisis.
To address their need for sanitation products, SEESHA staff and volunteers distributed dry rations and health & sanitation kits to 100 marginalized families in the tribal villages of Seengapathi and Sadivayal around Siruvani hills.