SEESHA's Response for COVID - 19-2020

Even as the coronavirus outbreak is accelerating and the world is battling the COVID-19 pandemic, India is currently battling its worst health crisis with dozens of new infected cases getting reported every day. COVID-19 is a respiratory disease with early symptoms being dry cough, fever, body pain and breathing difficulty.Even during this pandemic, as fear is seeping through the cities and states of India because of coronavirus, we at SEESHA have been tirelessly working towards breaking the chain of spread of coronavirus.
Highlighted below are some of the ways through which SEESHA has been responding to support the frontline healthcare workers, the needy people and general public, during these troubled times.
Screening tests&24X7 Emergency care at SEESHA Karunya Community Hospital, Karunya Nagar.
In an effort to complement the government's initiatives to contain the outbreak, our specialists at SEESHA Karunya Community Hospital are educating the public on the modes of spread of coronavirus and through the screening and emergency facility at SEESHA Karunya Community Hospital, our medical team have been performing early diagnosis and offering emergency care. We are monitoring this situation 24X7 by keeping our emergency care, pharmacy and diagnostics open with doctors, nurses and other paramedics. Through the emergencyscreening center at the SEESHA Karunya Community Hospital, Karunya Nagar more than 500 cases were screened with thermal sensors and the doctors have referred 3 cases to Coimbatore GH.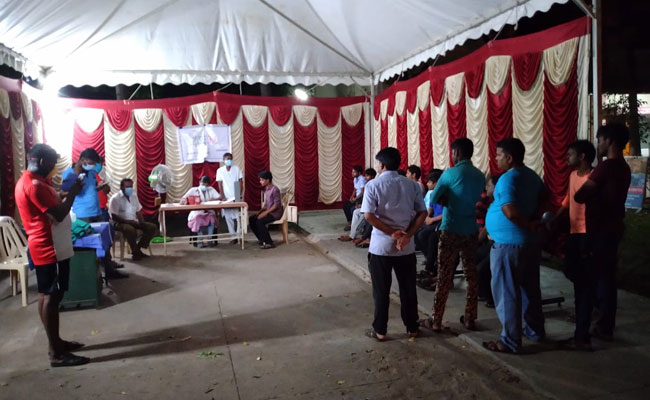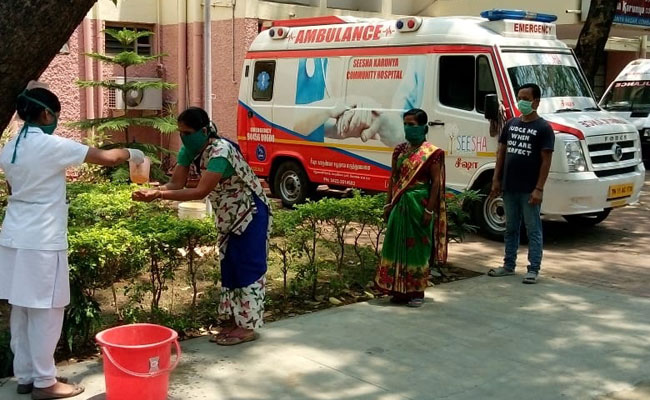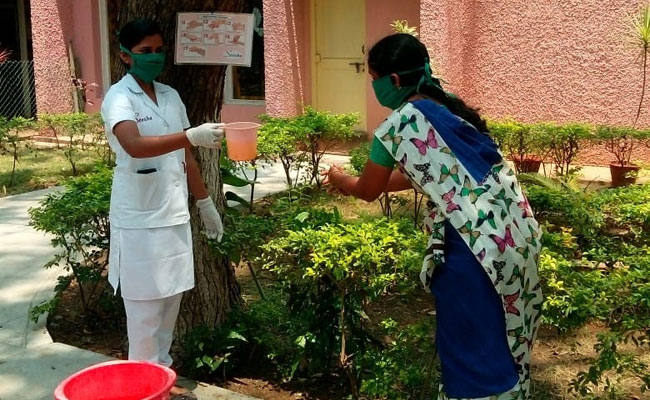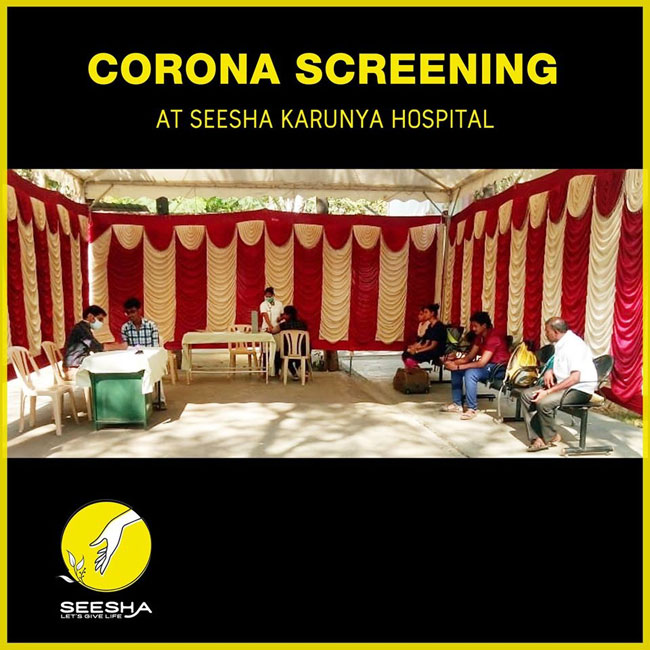 Awareness programs& Disinfection drives in Target communities:
We are also building awareness about this disease among the rural population and teaching them to detect early symptoms and practice proper sanitizing habits.This effort began in Vanagaram, Chennai with the help of the local administration and was carried forward to rural & tribal areas around Siruvani hills of Coimbatore where access to primary healthcare services is limited.
To improve the sanitation and keep infections at bay in these vulnerable locations, SEESHA volunteers and healthcare workers are continually involved in disinfectants spraying operations. During the first phase of disinfecting the vulnerable areas to control disease vectors and prevent infections, Karunya Deemed University along with SEESHA staff, were involved in disinfectants spraying drive in Mathuvarayapuram panchayat for 3 days covering all the areas. This was greatly appreciated by the panchayat officials.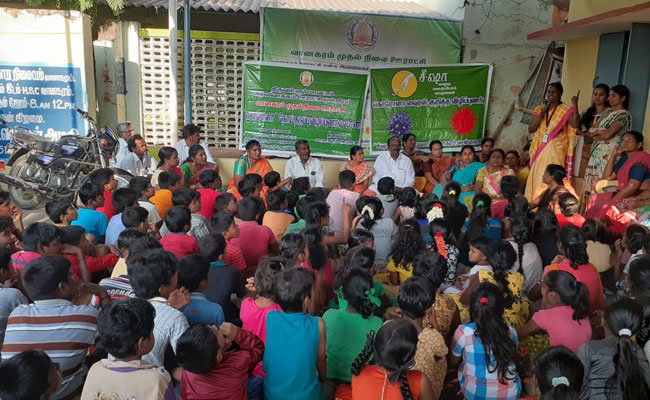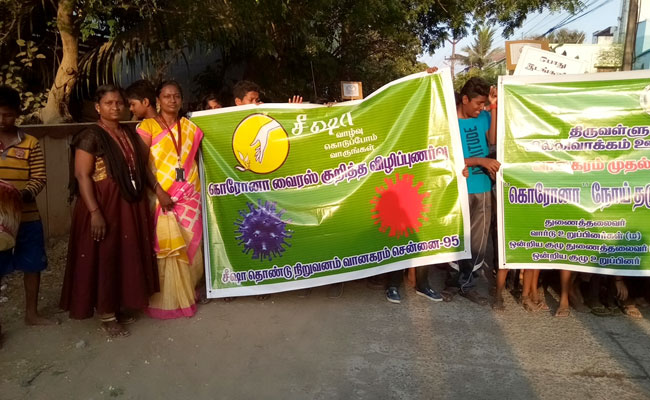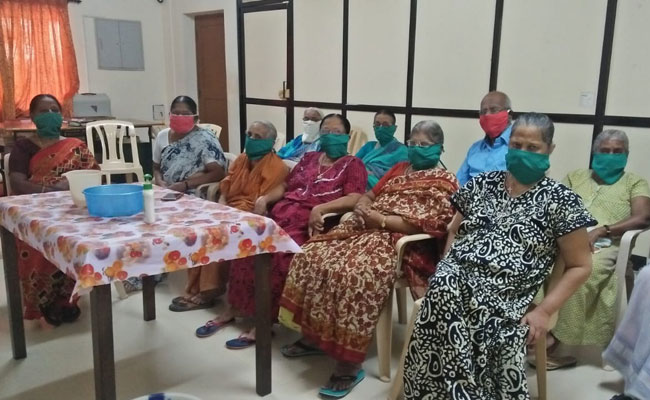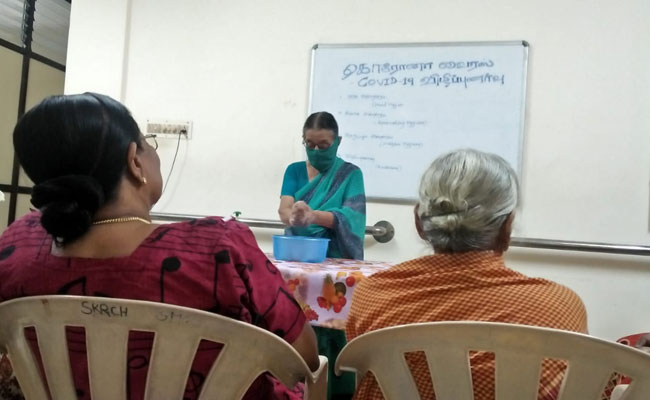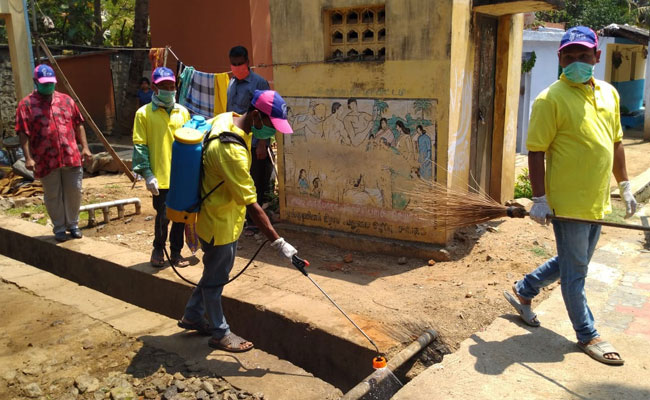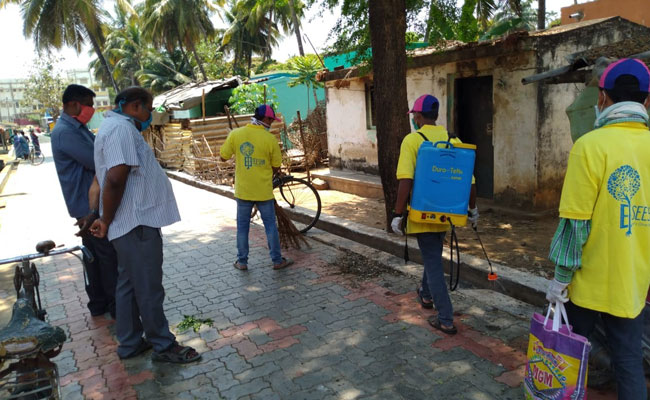 Easing access to health and sanitationkits:
There has been an escalating need across the country to equip the medical facilities with personal health &sanitary products, during this outbreak. With the hand sanitizers becoming the critical need of the hour for our protection against the COVID-19 and due to their surging demand, Karunya Deemed University has prepared 400 litres of hand sanitizers (in the first phase) through its chemists and doctors according to WHO standards.
Furthermore, the elders at SEESHA Old Age Care Home and SEESHA's women's group, are stitching masks for the community, understanding the concerns of the community volunteers, doctors and paramedics with regard to the demand of masks in the market and their rising prices. Stepping in with help, SEESHA has taken the responsibility of buying raw materials for the masks, and also has given incentives to compensate for their hard work.
Around 150 litres of these hand sanitizers and hand-made masks were handed over by Dr. Samuel Thomas – COO of SEESHA, to the District Collector of Coimbatore and Corporation sanitary officials, in the first phase. These products would be used by the sanitary workers of Coimbatore district to stay safe during this outbreak.
SEESHA team has distributed more than 2000 masks thus far, to healthcare and sanitary workers, policemen and general public. Health and sanitation kits were also distributed to over 100 families in the tribal villages near Sadivayal.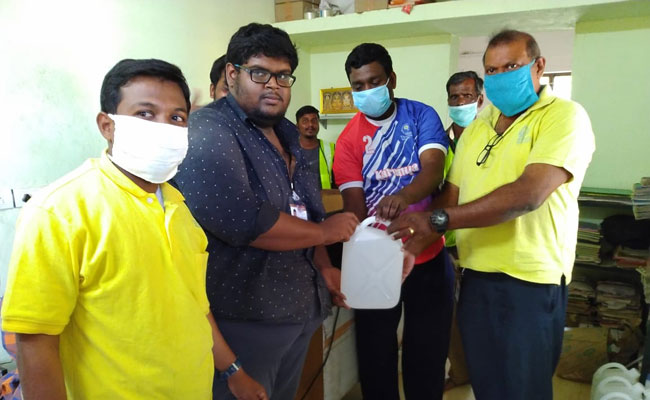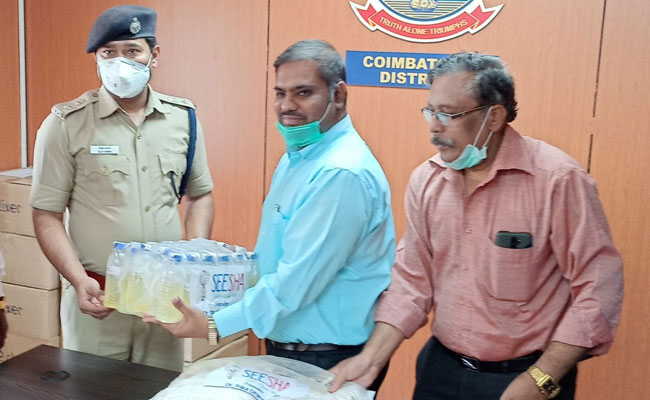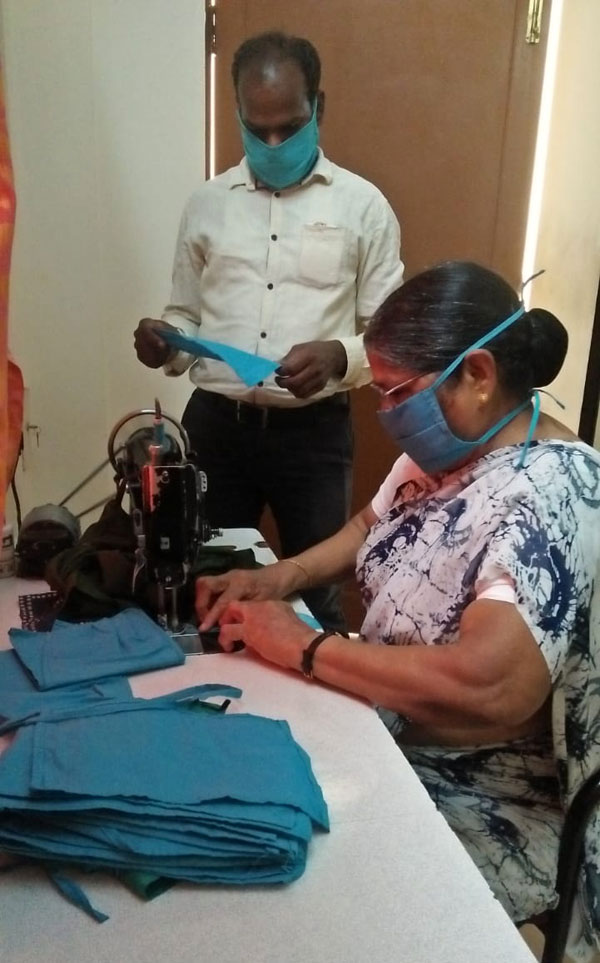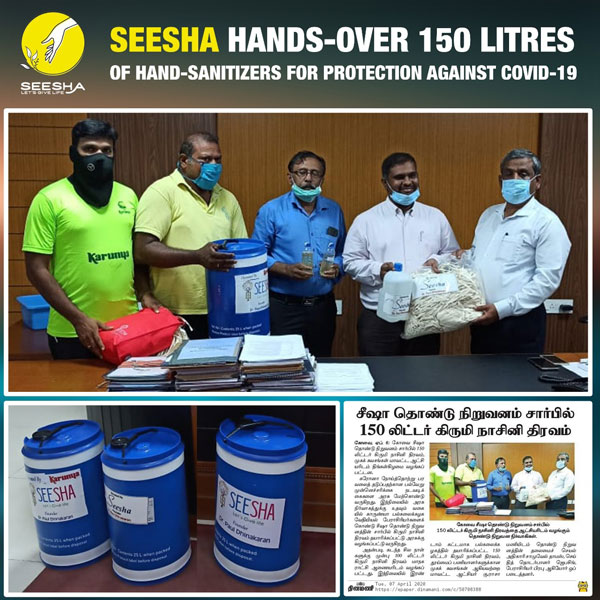 Food aid programs for the poor/transgenders
As the initial 21-day lockdown has been implemented across India to restrict the spread of COVID-19, marginalized sections of the society like daily wage laborers, the homeless poor, low-income groups and the transgenders who depend on daily wages for their sustenance, are the worst-affected going without food for days, with the skyrocketing food prices. To ease the suffering of such marginalized groups, SEESHA has been providing groceries and other supplies as immediate food aid. 35 poor transgenders and 120 HIV-affected were helped with dry rations for a month through SEESHA during this crisis hour in the first phase.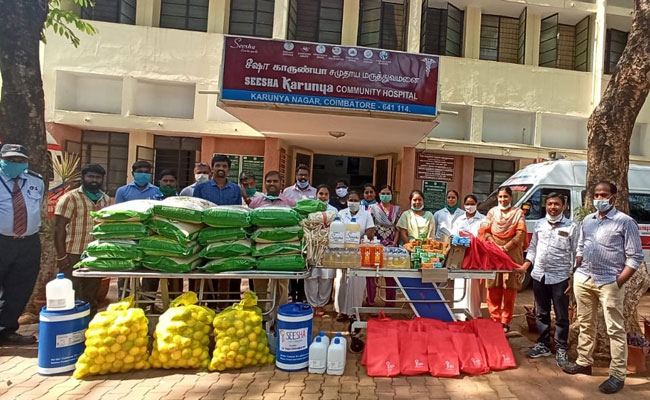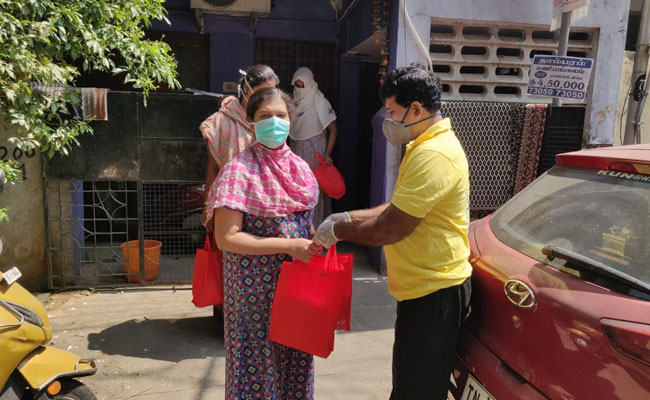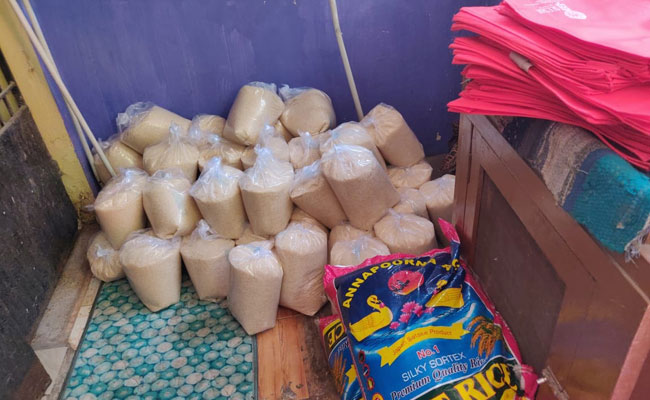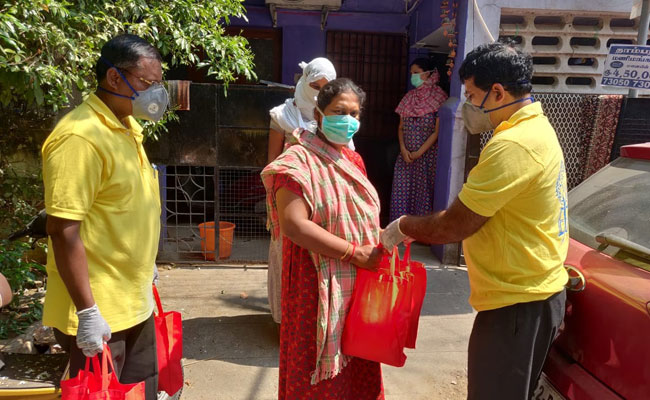 Improving accessibility to emergency healthcare facilities
As the COVID-19 pandemic is spreading aggressively and has reached the stage of community transmission, the need for more screening and emergency care facilities has risen drastically.Unfortunately, many of the underprivileged families residing in the remote regions of Ooty, Mettupalayam and other regions from Nilgiris& Coimbatore districts do not have access to essential health services and necessary diagnostic facilities. To overcome this disadvantage and ease the access to emergency health care and treatment for these marginalized communities, SEESHA's Founder Dr. Paul Dhinakaran benevolently offered the Karunya campus at Periyanaickenpalayam for the Government of Tamil Nadu to convert it into a temporary hospital to treat COVID-19 patients. Through this treatment facility in their vicinity, the coronavirus affected and suspected patients from Ooty, Mettupalayam, Periyanaickenpalayam and other nearby areas would be greatly benefitted.
In this regard, Dr. Samuel Thomas – COO of SEESHA, handed-over the letter of correspondence from our Respected Founder to the Coimbatore District Collector Mr.Rajamani IAS.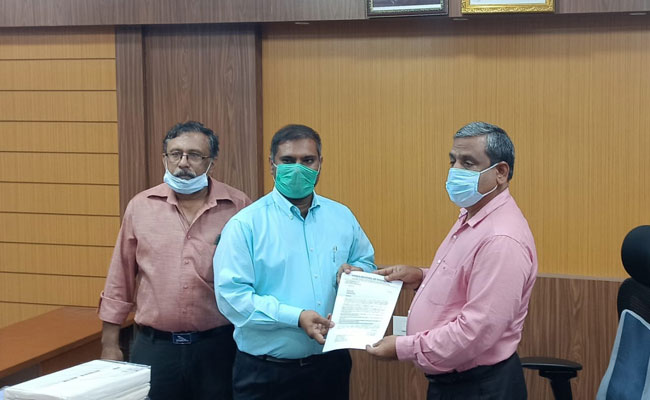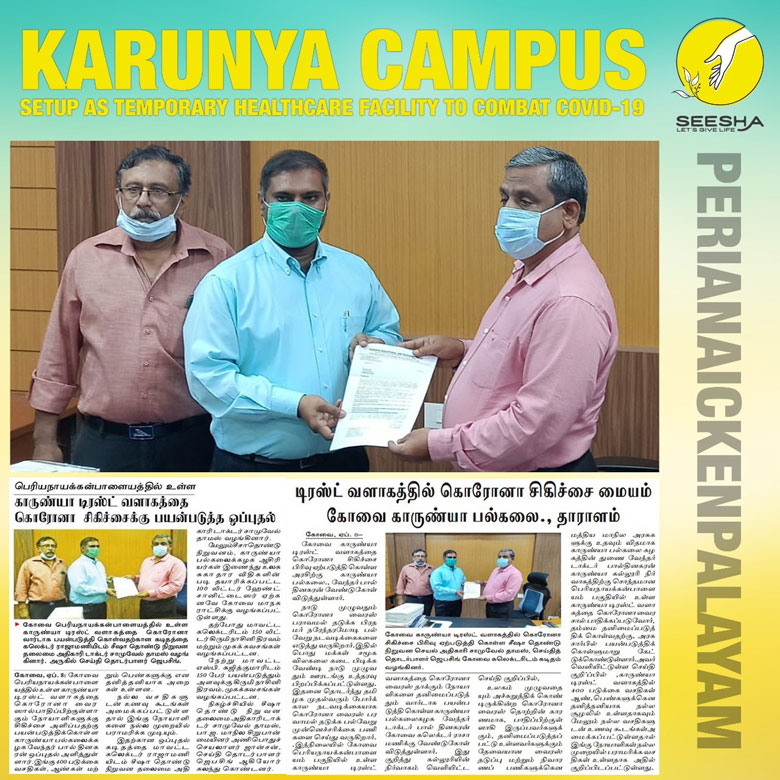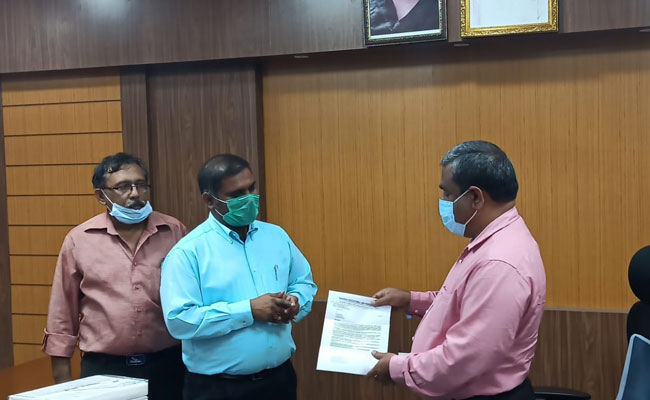 Thank you all for your invaluable support towards our emergency response efforts, during this coronavirus outbreak. As we continue to reach out to the marginalized sections and assist the healthcare workers & General public, your small contribution can help us serve them better.
We need your support in providing material for these masks, compensating our healthcare specialists and volunteers, for distributing health & sanitary kits and dry rations to the needy, and for preparing & spraying disinfectants in specific areas. We are constantly updating our findings and sharing them with the community. There is so much more to do to break the chain of transmission of coronavirus. Please help us serve those in need and provide for those who are most vulnerable and fearful.
How You can Help :
You can support SEESHA's emergency response against the COVID-19 pandemic, through the following ways:
Sponsor health & sanitation kit for a family - Rs.1000/-
Sponsor dry ration supplies for 1 family for a month - Rs.1500/-
Creating health awareness for the general public in 1 village panchayat- Rs.10,000/-
Sponsor the distribution of safety masks to 1000 people - Rs.15,000/-
Sponsor spraying disinfectants for a village - Rs.20,000/-
To set up special ICU for treating infected people - Rs.2,00,000/-